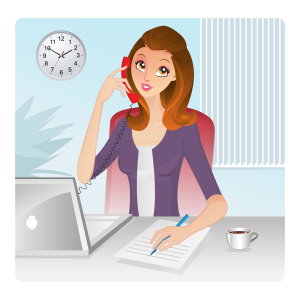 NovusCall has been serving hundreds of businesses nationwide since 2006.  We only hire the best receptionists, and train them on your company's procedures. This ensures only the best receptionists are welcoming your customers.  NovusCall Live Virtual Receptionists can manage all incoming calls for your company. You provide the call handling instructions, and we do the rest. The NovusCall Live Receptionists are available to answer incoming calls from 7:00am MST to 6:00pm MST.

Pay Per Call, Not Per Minute:

At NovusCall, you pay by the call, not by the minute.  This allows you to save money while allowing our receptionists to take whatever time is needed to provide exceptional customer service to each of your clients.  Paying by the call also guarantees the predictability of your costs.  This enables you to stay in control, and stay within your budget and call volume.
Account Set Up Process:
NovusCall will provide you with a new local or toll-free phone number. A short interview process allows us to gather the information we need about your company and how you would like us to manage your incoming calls. Once the set-up process is complete, we are ready to take calls. The set up process is typically very short and we can have you up and running in a few hours. The last step for you is to forward your existing business phone to your new NovusCall Number. You can also publish your new number, allowing clients to dial it directly. The choice is yours. Our Account Managers are available to assist you and answer any of your questions through this short process.
Call Flow:
For all incoming calls, our virtual receptionist will professionally greet the caller with your company name. The virtual receptionists will sound knowledgeable and confident about your business by answering basic questions and appearing to your customer as though we are right there in your office. Per your instructions, we'll locate you, take a message, or transfer the caller to your included Novus voice mail box, and callers will be thanked professionally for calling.  Each call is logged and sent to you in a message format.
Message Flow:
Every call – regardless of the outcome – will be accompanied by a written email message from Novus containing the details of the call, including the caller's phone number, name, and other items you instruct us to document for you. All of this information will be verified by the receptionist. Messages can be sent as an email, text or both. Just let us know what your preference is. With our virtual receptionist services, your options are endless. NovusCall clients can also log into AccessNovus from your computer or web-enabled cell phone and view your messages, update your availability, change your contact information, browse your statistics, and more!
Call today for more information.
888-99-NOVUS